Part 1: join the dance

The animation largely follows the first section of the painting. In irony-laden exchanges, Death sends various characters to the Underworld.
Part 3: The Underworld

In the Underworld the deceased drag around grotesquely inflated versions of their attributes. They hope to use them to enter the 'heavenly Lübeck'. The sacristan, for instance, tries to use his keys, his attribute which he carries around on a strap. But he finds that the city walls have no gates or doors. While almost everyone fails, the child succeeds effortlessly. As it explains, it is still too young to walk - let alone dance with Death – so it is gently carried past the forbidding walls, which dissolve and allow it into paradise.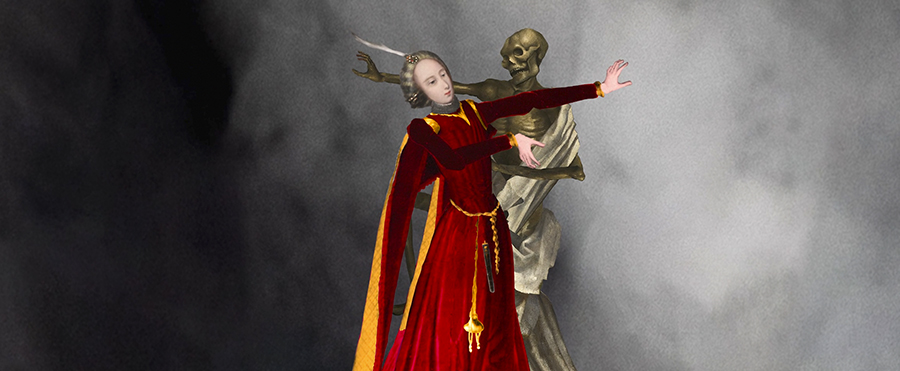 to continue
click on the right arrow


Friends for life
[...]The audience, cons
Thomas Adès
Trompert was not the only artist who found inspiration in the Marienkirche. Thomas Adès, one of the most acknowledged composers of our time, had seen the paintings too, and decided to make a musical representation of them. His Totentanz, an overwhelming composition that was premiered in London in 2013, was commissioned by Robin Boyle and dedicated to the composer Witold Lutoslawski and his wife Danuta.
Once they had heard the piece, Hernandez and Trompert knew they could hardly wish for better music to their Totentanz animation than Adès's composition: brilliant and contemporary, it is both profound and deeply moving. In early October 2019 Wim Trompert visited Thomas Adès and showed him the first results of his and Hernandez's work. Adès gladly gave his consent to combine his music with their animation.

Part 2: War

A conflict between the usurer and the merchant gets out of hand. Their fisticuffs escalate into a war that migrates through time. This ultimately leads to the Lübeck bombardment of 1942. We see the Marienkirche and Notke's Totentanz destroyed in the flames.
From opera to animation
In 2018 Wim Trompert directed Beethoven's Fidelio at the Pacific Opera Victoria, Canada. The Spanish-Colombian artist Monica Hernandez made video images that were projected as part of this production. Her images and the animations used in them so fascinated Trompert that he decided to learn the various digital techniques involved, in order to be able to make video animations himself too.
One of Hernandez' animations for Fidelio that fascinated him most was a danse macabre or dance of the dead, in which an advancing army turns out to be led by Death (a skeleton). So when, in Lübeck in early 2019, Trompert was introduced to the grand Totentanz Bernt Notke had painted in the Marienkirche in 1463, he immediately knew he wanted to bring this piece of lost heritage back to life again. His enthusiasm convinced Monica Hernandez to join him, and for almost two years now they have been collaborating on the realization of their animation project.

Totentanz-Festival
The Premiere of Totentanz was part of
Das 1. Europäisches Totentanz Festival
September 24 - October 2, 2021
St. Marienkirche zu Lübeck.


Recording
The animation is intended to be shown at live performances of Adès's composition. At its premiere in the St. Marien zu Lübeck, however, the recording is used that DGG made of the Boston Symphony Orchestra, with Christianne Stotijn (mezzo-soprano) and Mark Stone (baritone), and conducted by Adès himself.