Sookhyung Park - Daphne
Anthony Pulgram - Apollo
Kurt Lehmann: Leukippos
Brian McIntosh: Peneios
Rebecca Hass: Gaea
Peter Barrett - First Shepherd
Eric Olsen - Second Shepherd
Emmanuelle Coutu - First Maid
Kimberley Paulley: Second Maid
Gabriel Chenier D. - Third Shepherd
Aaron Durand - Fourth Shepherd
Daphne sounds and looks good

[...] There's no faulting soprano Sookhyung Park [...] who sang a heartfelt, pschychologically concentrated Daphne, riding the swirling, euphoric orchestra lines with never a crease in the pearly sheen of her lovely sound.
[...] The production also looks good. Leslie Frankish set was simple -- a forest of streamers and leaves -- but lyrical; Gerald King's excellent lighting effected its own varied metamorphose; and Trompert moved people around on stage without fuss.
[...] Once again Pacific Opera Victoria has found something different and presented it with style.

Elissa Pool in 'The Globe and Mail', February 22, 2007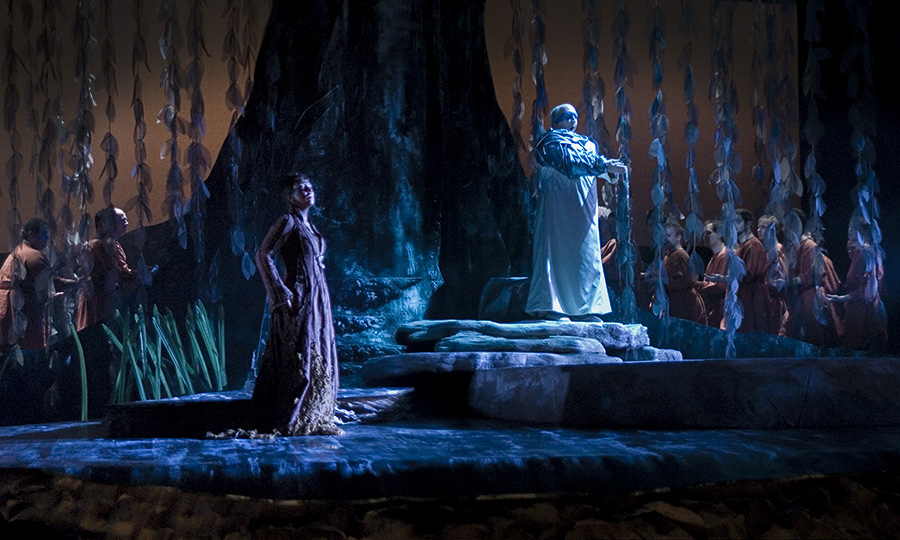 to continue
click on the arrow


Strauss soars in mythical landscape
[...] Richard Strauss's one-act opera Daphne, based on a Greek legend, was first performed in Dresden in 1938, but this is its Canadian premiere and if you are even the faintest opera fan, don't myth it.
It's a gem that pulls at the heartstrings and offers everything from moody, mesmerizing sets to soaring voices and convincing acting talent.

[...] New York coloratura soprano Sookhyung Park gives a striking performance as the other-wordly nymph Daphne. Her first aria, a hymn to nature and the sinking sun, is beautiful, pure and ethereal. Her later terror is palpable when Apollo kisses her, in a supernatural setting which sees him covering her like a bat against a tree, all exept her glowing face. The rapturous final scene of her union with nature is marvellously inventive as she winds herself up in leaves, while delivering ecstatic, ringing notes.

Grania Litwin in Times Colonist, February 19, 2007

Brian McIntosh as Peneios
and
Rebecca Hass as Gaea
photo: Tim Matheson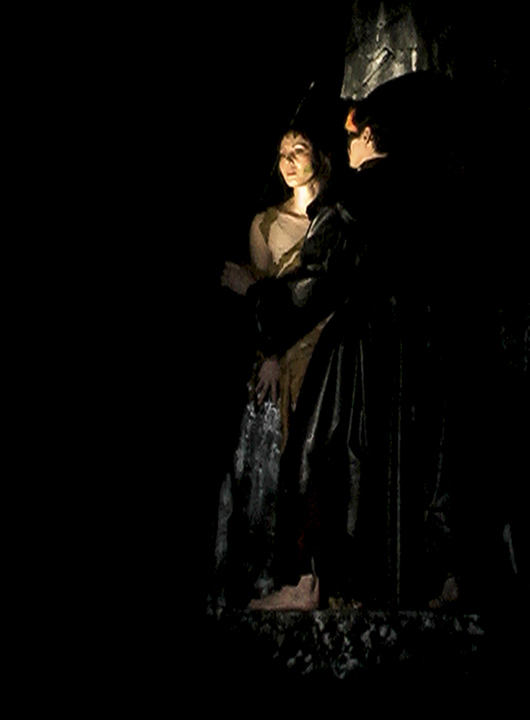 P








Sookhyung Park as Daphne and
Anthony Pulgram as Apollo
photo: Megan Newton
highly entertaining
[...] 'Wim Trompert's bold and imaginative direction brings out the darkness of the story as well as it's wild dreaminess, making this a highly entertaining opera'.
Grania Litwin in 'Times Colonist'
Sookhyung Park as Daphne and
Kurt Lehmann as Leukippos
photo: Tim Matheson
Strauss's Daphne
[...] Strauss's late opera receives a magnificent [ Canadian] premiere production with this superbly sung, beautifully produced, and brilliantly directed performance, another triumph for Pacific Opera Victoria.
As ever at Victoria, the assembled cast of singing-actors, abetted by Wim trompert's brilliant directorial hand and Timothy Vernon's inspired conducting, offered a compelling, and ultimately overwhelming, theatrical experience. I felt I was watching a dream.
[...] In Wim Trompert's direction there was not a single false step: everything was concentrated with laser-like intensity upon theatrical impact achieved without distrations, without gimmickery, and with obvious and total respect for the music, the composer, and the intelligence of the audience. [...] Seeing this live was one of the experiences of a lifetime of opera-going.
J.H. Stape in reviewVancouver, February 2007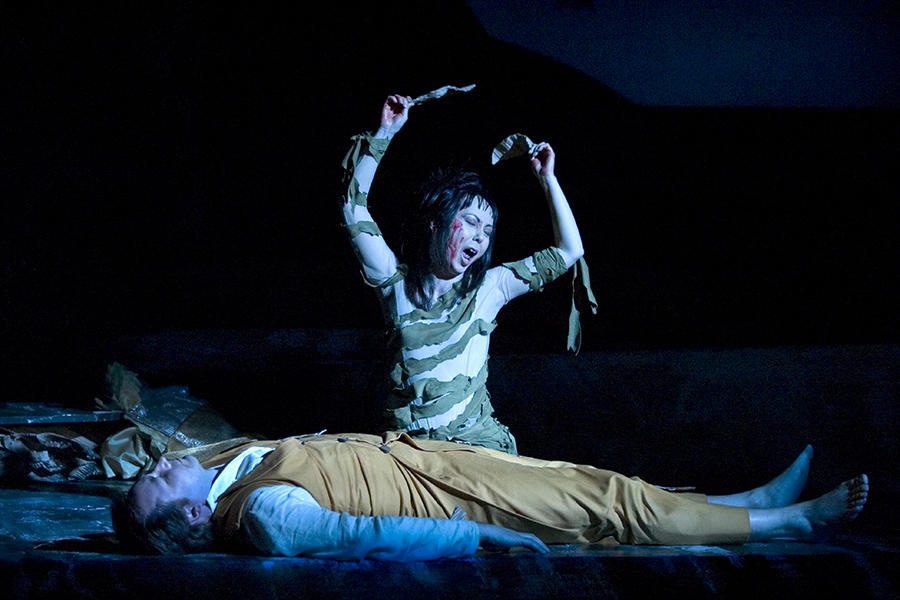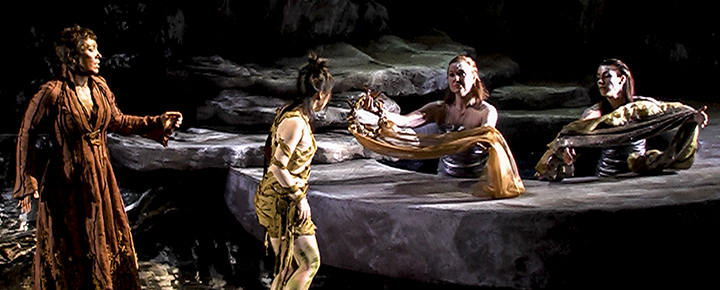 Hier wordt de inhoud voor id "blokje10" weergegeven
Sookhyung Park as Daphne
and
Rebecca Hass as Gaea
photo: Tim Matheson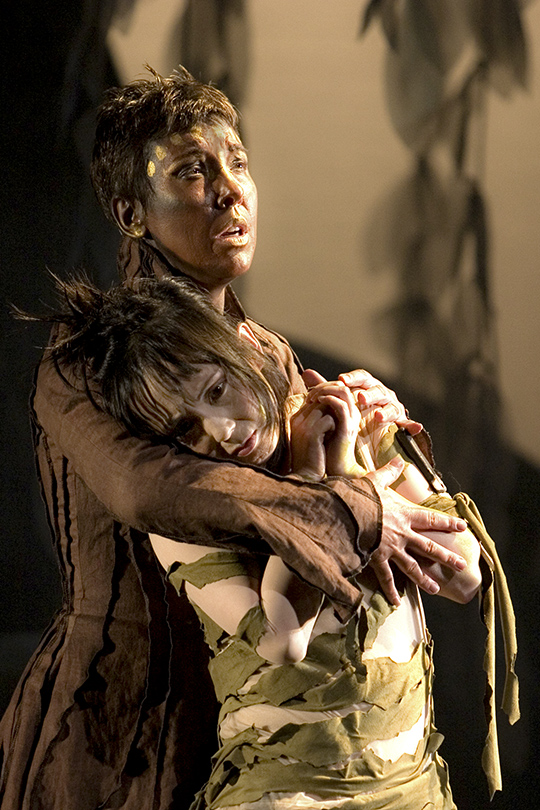 Conductor: Timothy Vernon
Director: Wim Trompert
Set designer: Leslie Frankish
Costumes: Leslie Frankish
Lighting: Gerald King
Choreography: Danette Bell
Victoria Symphony
Pacific Opera Chorus
Chorus Master: Robert Holliston

Richard Strauss: 'Daphne'
Pacific Opera Victoria (2007)